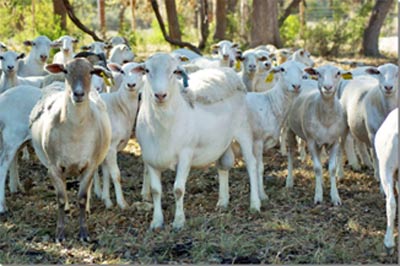 Sides of pastured lamb are offered seasonally. Due to persistent drought, we made the decision to sell our sheep herd in the summer of 2014. It was difficult because Deb loved her sheep. The up side is the herd went to a fellow Grassfed producer that has agreed to continue to supply lamb for Bandera Grassland to market. This producer's management only implements one fall breeding season, so we will only have lamb meat for sale in February. Orders for lamb may be reserved by sending an email to Debbie Davis.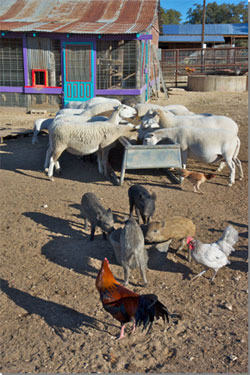 The price for lamb is $8.50 per pound. They are humanely slaughtered at Mercantile Meat Co. in Utopia, TX, inspected and labeled for sale in Texas. Customers that reserve orders prior to processing may choose how they want their side cut and packaged. Click here to view a sample cut sheet.
The sheep are never fed grain of any kind or other high starch rations that would adversely affect the Omega 3 and CLA levels of the meat. They are living on a ranch that has plentiful range and
irrigated pasture. They are not confined to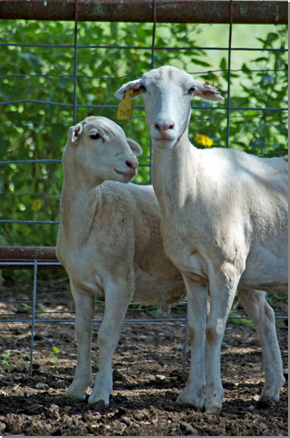 a feedlot and their owner follows a strict
protocol that incorporates the attributes
of pasture, humane animal care, no
antibiotics, and no artificial hormones.
They use guard dogs to assure the
safety of their sheep from predators.
This program embraces the following
fundamental principles:
Pasture based production system where animals are born and raised on open pasture with no confinement at any stage of production including finishing.
Holistic approach to ranch/farm management.
Forage based diet.
Responsible animal care that supports humane animal welfare, handling, transport and harvest of pasture raised lambs.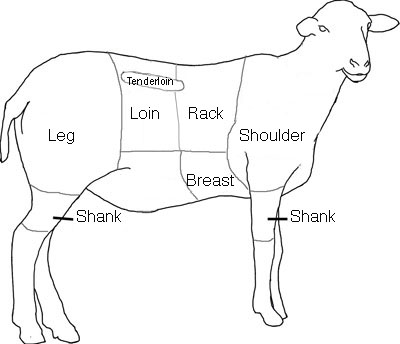 "To live in hearts we leave behind is not to die." __Thomas Campbell